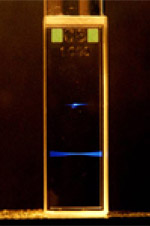 Three-dimensional (3D) microstructures are useful for many applications, including MEMS, photonics, microfluidics, and tissue engineering.
COPE research focuses on developing dyes that simultaneously absorb two photons to create excited states that lie above the ground state at an energy equal to the sum of the energies of the two absorbed photons. These dyes allow one to excite molecules with a very high degree of spatial selectivity, with excitation confined to the focus of a laser beam. Research has shown that molecules with donor-acceptor-donor (D-A-D), and acceptor-donor-acceptor (A-D-A) structural motifs exhibit exceptionally large two-photon absorptivities.
Two-photon absorbing molecules and materials are now being designed and synthesized with additional chemical and optical activity that can generate radicals or protons, that can be used as photo-deprotecting groups, and can be used in biological imaging and sensing.