These training resources will assist you in creating a more effective presentation.
Examples
There are a number of videos online that can serve as examples of videos that have positive and negative qualities. Below are just a few examples we have found online. We encourage you to take a look at some of these and search out videos on your own to get a good idea of how to create an effective video.
Tips for Shooting Video
Check files: make sure you can shoot and download the video. Check if the necessary space is available.
Audio/Video check: clean the lens, record a sample video. Examine the audio/video quality. This will be useful for determining how loud the speaker should talk.
Hold your shots: having extra video content is useful in the editing process. It is always better to overshoot than to undershoot.
Keep the video steady: excessive zooming, shaking, and panning (moving the camera side to side) is distracting. Make camera movements slow and smooth.
Minimize noise: don't breath heavily while recording, shoot in areas with minimal background noise.
Remain zoomed out: zooming in will magnify shaking and unwanted camera motion. Instead, move closer to the target for a closer shot.
Avoid backlight: when shooting during the day, keep the sun behind the camera. The best times to shoot are early and late in the day. bright midday sun makes the shot look washed out.
Use a tripod: this helps keep shots steady.
When interviewing: leave some headroom above the persons head. The bottom of the frame should be around the third and fourth buttons on a standard dress shirt. This leaves adequate room for editing a title for the speaker.​
Instructions for Video Editing
The Georgia Tech Library has a variety of digital cameras and camcorders that are available for checkout at the Library Services Desk.
If needed, COPE can provide a digital video recorder, Flip Video SlideHD. This will be made available on a first come, first serve basis and can be checked out for a maximum of 24 hours each time you need to use it.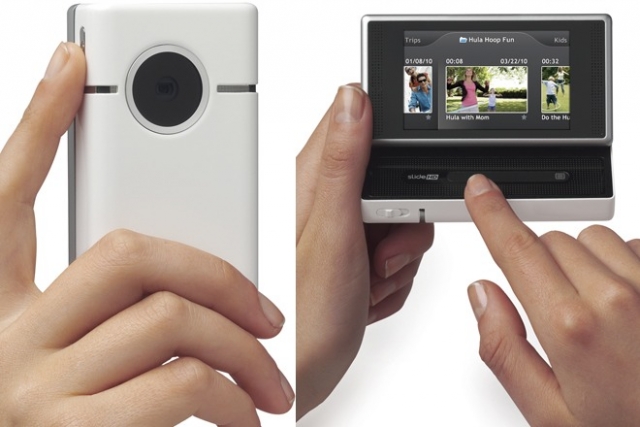 Their support site is available here: http://support.theflip.com/en-us/products/slidehd/

Basic operation is simple, play around with it for a few minutes. Sliding the camera allows you to view a gallery of recorded videos and play them. Tap on the sides to rotate through videos. Slide it shut to record. Audio jack is available to listen to audio of videos. Switch at the top left (in camera mode) will pop out the USB male jack for interfacing with a computer.

For editing software, we recommend Final Cut Pro.

This is an overview of using Final Cut Pro, a user-friendly software for video editing available in the GT library. Find the Mac computers in the multimedia section (near where Jazzman's Café used to be).

Import raw files –> Edit –> Submit your video

The native format for the files recorded on the camera provided is .MP4 and can be directly imported into Final Cut Pro. Create a new project and import the raw files you want to edit together.

The "timeline" is a drag-and-drop style editor that allows you to clip specific portions of scenes and concatenate them in any order. Using the timeline, you can drag and drop scenes, add titles, and edit many aspects of your video.

For a detailed explanation of using specific editing functions, use the help/support resources provided by the software; they are very organized and straight-forward.