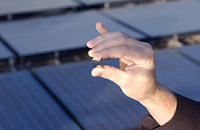 There is currently much interest in organic electronics; i.e. the fabrication and study of electronic and optoelectronic devices using readily-processed, low-cost, organic molecular or polymeric materials. Devices include: light-emitting diodes, photovoltaics, and phototransistors.
A key requirement for the further development of this field is the availability of materials that are readily processible from solutions and that may have enhanced charge-carrier mobilities and conductivities or dielectric permittivities relative to the current state-of-the-art.
COPE has undertaken an interdisciplinary and collaborative research effort with the goal of developing stable, processible materials, with enhanced electronic properties. This involves coupling theoretical modeling with chemical synthesis and characterization, mobility measurements, and device physics.
Organic semiconducting materials of interest include:
Photo-crosslinkable polymers with pendant hole—or electron—transport groups
Columnar discotic liquid-crystalline materials
Conjugated polymers
Crystalline materials based on small-molecules
In addition, research is focused on developing an understanding of the electronic properties of:
Organometallic and coordination compounds of the transition metals as semiconductors
Ligand-functionalized metal-oxide nanoparticles and their use as composites for dielectric media
Carbon nanotubes as transparent electrodes for flexible substrates