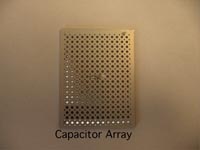 Because of their ability to store and rapidly discharge electrical energy, capacitors are used in a variety of consumer products such as computers and cellular telephones. And because of the increasing demands for electrical energy to power vehicles and new equipment, they also have important military applications.
A key to developing thin-film capacitor materials with higher energy storage capacity is the ability to uniformly disperse nanoparticles in as high a density as possible throughout the polymer matrix. However, nanoparticles such as barium titanate tend to form aggregates that reduce the ability of the nanocomposite to resist electrical breakdown. Because of its high dielectric properties, barium titanate has long been of interest for use in capacitors, but until recently materials scientists had been unable to produce good dispersion of the material within a polymer matrix.
By using tailored organic phosphonic acids to encapsulate and modify the surface of the nanoparticles, researchers at COPE are able to overcome the particle dispersion problem to create uniform nanocomposites.
The improved capacitors could be used in consumer devices such as cellular telephones – and in defense applications requiring both high energy storage and rapid current discharge.